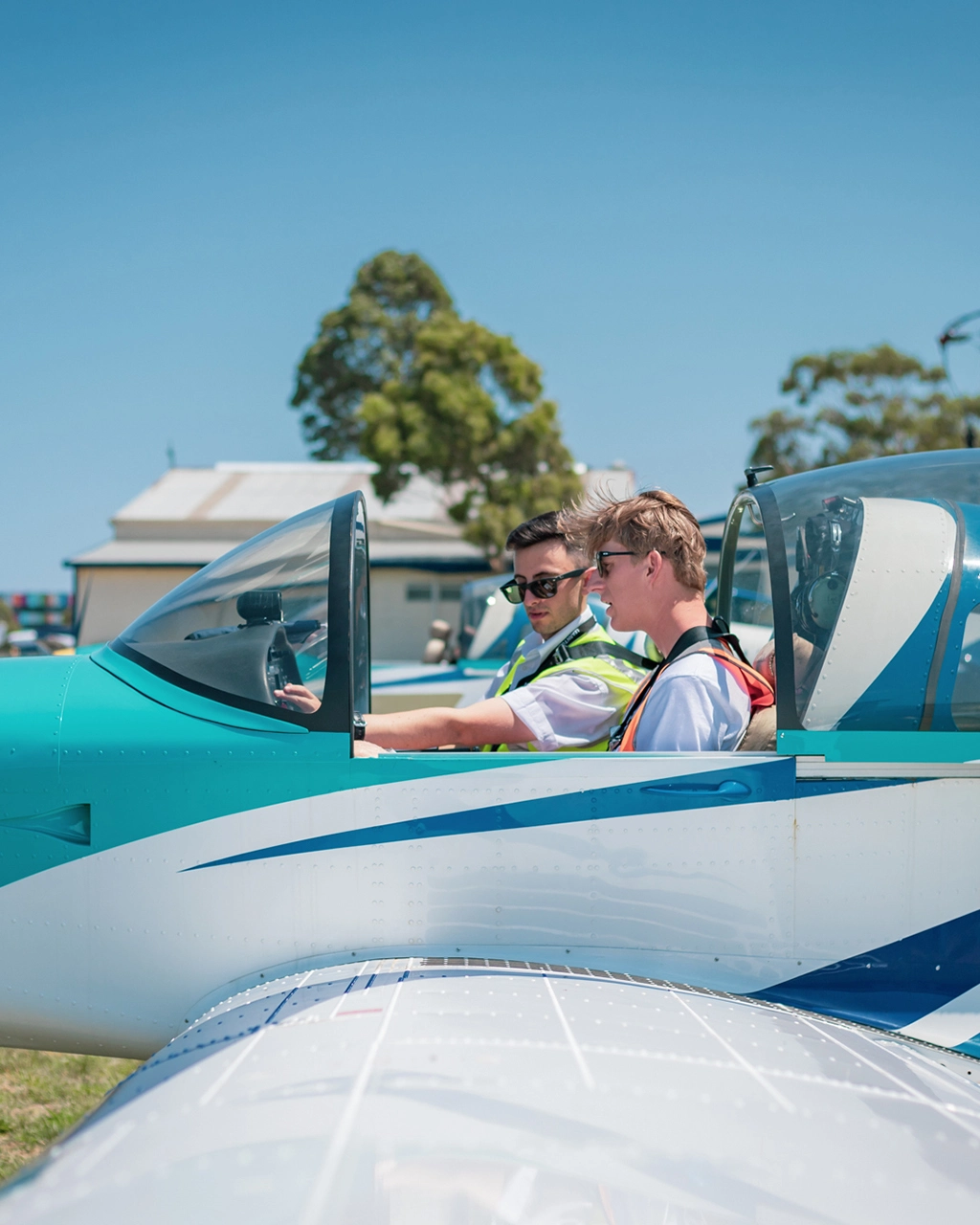 January 28, 2022
Frequently Asked Questions About Flight Training
If you've never flown a plane before, the idea of being the person in control of the cockpit might seem like a far off dream. Pilots are cool, calm, and collected — it can seem like they were born to take to the skies. In reality, they've just spent a lot of time training and have the confidence, skills, and knowledge to take on any and all situations. Anybody new to flying will have a lot questions about flight training.
Before even signing up to flight training in Australia, it pays to do your research. The pathway to achieving your goal can be quite different depending on what that goal is. Here at Learn to Fly, we've helped countless people with a range of different goals fulfil their dream of taking to the skies.
For some, a Trial Introductory Flight (TIF) is all they need to tick an item off their bucket list. For others, their goal of flying for fun might see them looking towards a Private Pilot Licence. If you want to fly professionally one day, a Commercial Pilot Licence or Diploma of Aviation is your pathway to success.
Whatever your aviation aspirations are, Learn to Fly is here to help. Here, we answer some of the most common questions about flight training. If, after reading this article, you still have any questions, you can always get in touch with one of our flight training specialists.
How old do I have to be to fly?
This is by far one of the most common questions that people ask. Here at Learn to Fly, we're proud to offer a full range of flight packages and experiences designed to help people of all ages achieve their dreams.
As per regulations set out by the Civil Aviation Safety Authority (CASA), you must be at least 15 to fly an aircraft solo. You can commence flight training prior to this, but until you are 15 you will always need to fly with an instructor. You need to be 16 to obtain a Recreational Pilot Licence (RPL), 17 to obtain a Private Pilot Licence (PPL), and 18 to obtain a Commercial Pilot Licence (CPL).
If you are younger than 15, our Trial Introductory Flight (TIF) is the perfect opportunity to experience what it is like to fly a plane before deciding on whether you want to commit to further training. We also offer a range of simulation packages, which provide an enjoyable, realistic experience for all ages.
What are the steps to becoming a professional pilot?
This is one of the most common questions about flight training. To fly professionally, you will need to obtain your CPL. To start on CPL training you must first have completed and obtained your RPL and PPL.
For pilots who are yet to start any training, a great option is the AVI50219 Diploma of Aviation (Commercial Pilot Licence – Aeroplane) course. This course includes RPL, PPL and CPL training as well as additional learning aimed at better preparing pilots for entering the industry once they graduate. This course is also approved for VET Student Loans (VSL) for eligible students. This means that you can train now, and only need to start paying back your course fees once you are earning money.
Once you have obtained your CPL, you are able to work professionally as a pilot. Depending on what kind of pilot role you want to work in, it may be of benefit to complete further training, like an Instrument Rating for example.
Learn To Fly has a range of additional Rating and Endorsement courses that allow you to upskill and give yourself the best chance at landing your dream pilot job.
Are there any prerequisites I must meet to fly?
As mentioned, CASA has a minimum age limit on who can undertake solo flights. There are a number of other prerequisites that must be met before completing flight training in Australia. These include a medical check, security clearance, Aviation English Language Proficiency (AELP) test, and registering for an Aviation Reference Number (ARN) with CASA.
You can contact Learn to Fly if you have any questions about how to meet the requirements to fly.
What aviation careers are available to me?
Many people become pilots with the dream of flying for an international airline, but that is not the only option. In reality, there are actually a wide range of career paths that pilots can choose from. You might choose to ferry cargo from one airport to another. Perhaps you're interested in pursuing a career in the medical aviation industry, which is a very worthy endeavour. There are also always openings for agricultural pilots.
One of the best pilot career options is to become a Flight Instructor. Becoming a Flight Instructor is a rewarding career path on its own. In addition, it can be a fantastic stepping stone to another role, as it allows you to build flying hours and experience while you earn money.
Learn to Fly is passionate about helping all our students achieve their dreams, while also opening up doors that you may not have previously considered.
How much does flight training cost?
The answer to this question depends on a number of different factors. The cost of a course will depend largely on the number of flying hours it requires. Aircraft choice is another factor in determining how much training will cost.
If you are an international student, you will need to factor in the cost of your student visa plus living in Australia on top of your course fees.
Learn To Fly offers a range of payment options on our courses. We offer inclusive flight packages to give you a better indication of the overall cost upfront, and many of these can be split into interest-free monthly instalments. There is also the option to "pay as you fly". Our Diploma courses have been approved for VET Student Loans (VSL) for eligible students.
We are dedicated to making flight training in Australia accessible to as many people as possible. We strive to make flight training more affordable, making it easier to achieve your dreams. Flying is a wonderful experience, and regardless of what your flying goals are, we look forward to welcoming you to our school. If you have any questions about flight training, don't hesitate to get in touch!