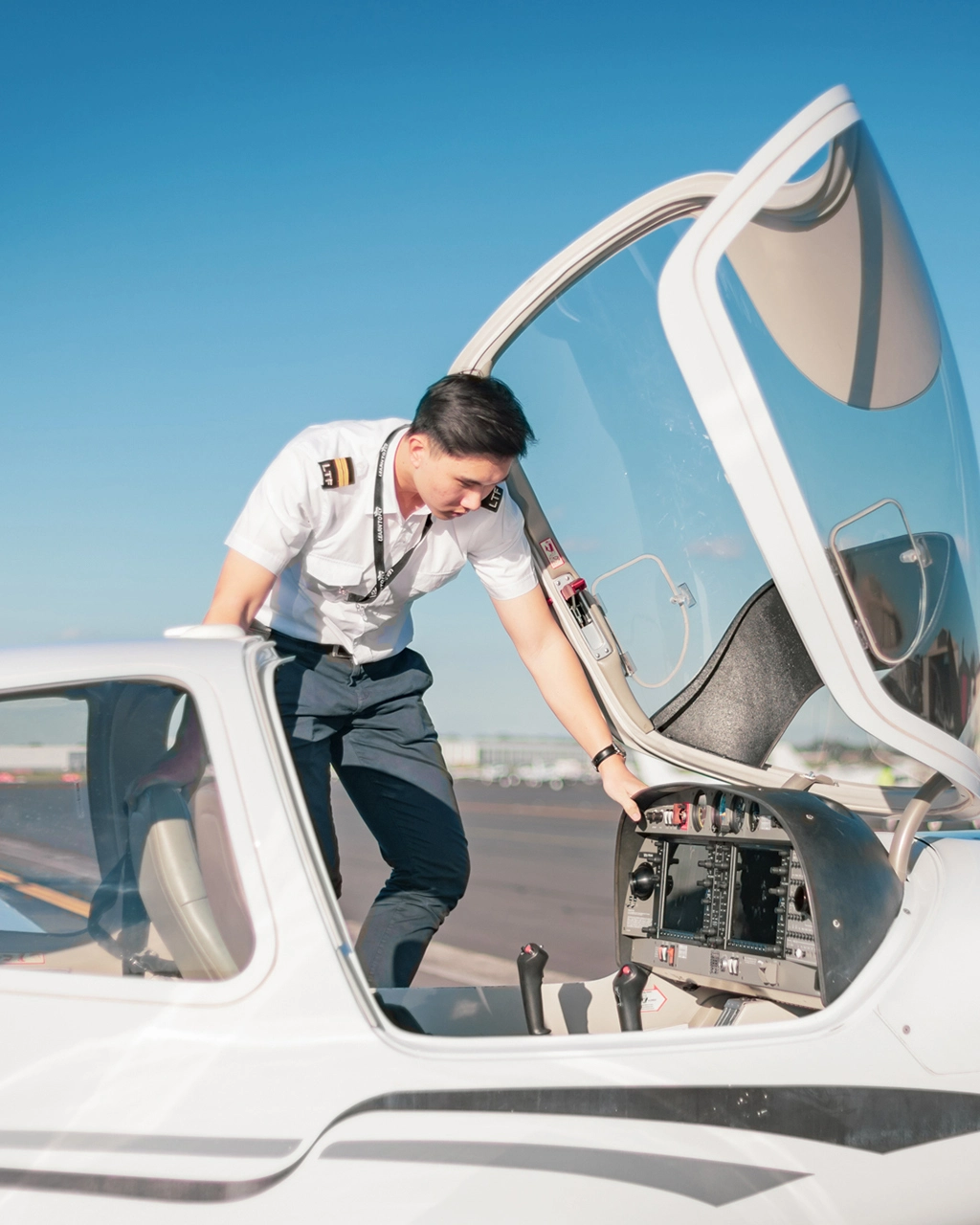 November 29, 2021
Fulfill Your Dream of Flying with a Diploma of Aviation
Many of us wonder what it might be like to be in the cockpit of a plane. Well, dream no more. Studying for a Diploma of Aviation with Learn To Fly will provide you with the knowledge, skills, and qualifications to become a certified pilot. Next time you're jetsetting from Melbourne to New York, you could be the one in control of the plane!
Of course, obtaining a Diploma of Aviation takes considerable time and effort, as does going on to become an airline pilot. However, all who have studied with Learn to Fly would agree that it's certainly worth the many hours you put in. After all, most of these hours will see you soaring through big blue skies or among the clouds. What more could you ask for?
Continue reading to learn a little more about what to expect from the Diploma, who is eligible, and how to apply.
AVI50219 Diploma of Aviation program summary
There are quite a few courses out there that offer pilots the opportunity to obtain their Commercial Pilot Licence (CPL), which is what you need to earn a living from flying. So what makes the AVI50219 Diploma of Aviation different?
Don't let your beginner status get in the way of your dream to fly for a career. The 150 flying hour training syllabus will teach you everything you need to know to go from complete beginner to experienced pilot.
Upon successfully completing the course, you will receive both a Commercial Pilot Licence and a Diploma certification. However, the program is not just about you having the right pieces of paper. It not only teaches you all the practical skills you need to know to take to the skies with confidence. This includes flight planning, safe and accurate aircraft operation, operational decision making, navigation techniques, and how to safely operate in a busy and congested flight space.
The Diploma of Aviation flight training program follows the Civil Aviation Safety Authority's Commercial Pilot Licence syllabus, and then the extended syllabus prepares you for actually working in the aviation industry. This means that the Diploma requires the participant to undertake theory classes and exams across a broad range of subjects, from aerodynamics to meteorology. Upon successful completion, you will be fully qualified and present as a highly competitive candidate to obtain your dream pilot job.
As a professional pilot, you may be responsible for the safety of a number of crew and passengers. Having finished the Diploma, you will have confidence in your skills and ability to make informed decisions to ensure the safety and security of all.
Eligibility
The Diploma is aimed at people with little to no flight experience. However, that doesn't mean that just anyone can apply. There are prerequisites to ensure your safety and the safety of others around you.
You must be at least 18 years old to commence the program. Whilst Learn to Fly welcomes international students from all over the world, there is still an English language requirement. You must also organise an Aviation Reference Number.
How to apply
The application process for the AVI50219 Diploma of Aviation is relatively simple. It is also designed to make sure you are aware of the course demands. To start with, you must first check that you meet all eligibility requirements, as outlined above. You can then complete an Expression of Interest form. This will request some basic information about your aviation experience, career aspirations, and understanding of the obligations of a pilot.
Once this EOI is approved (more information may be requested by the selection committee), you can then complete the enrolment form. Your journey to becoming a qualified pilot will commence with a student orientation and induction session.
Why Learn to Fly?
With so many flight schools out there, why sign up with Learn to Fly?
Well, as a highly established and experienced flight school in Melbourne, we believe our passion for providing affordable and accessible flight training truly sets us apart. We understand that the cost of flight training can often be a prohibitive factor in people achieving their dreams. As such, we strive to provide high-quality, accessible training that enables you to reach your goals in an efficient manner.
Our fleet includes an array of different planes, including the single-engine Diamond DA40 and the twin-engine Diamond DA42. Our state of the art training facilities in Moorabbin are unparalleled and large enough to accommodate a significant number of students at one time. We have provided training to people from all types of backgrounds. Our graduates have gone on to achieve great things in the aviation industry. Our wide range of additional courses also allows you to expand your skillset and abilities.
The Diploma of Aviation is one of the best pathways to achieving your flying dreams. So, contact us today to take the first step towards your dreams of becoming a commercial pilot!