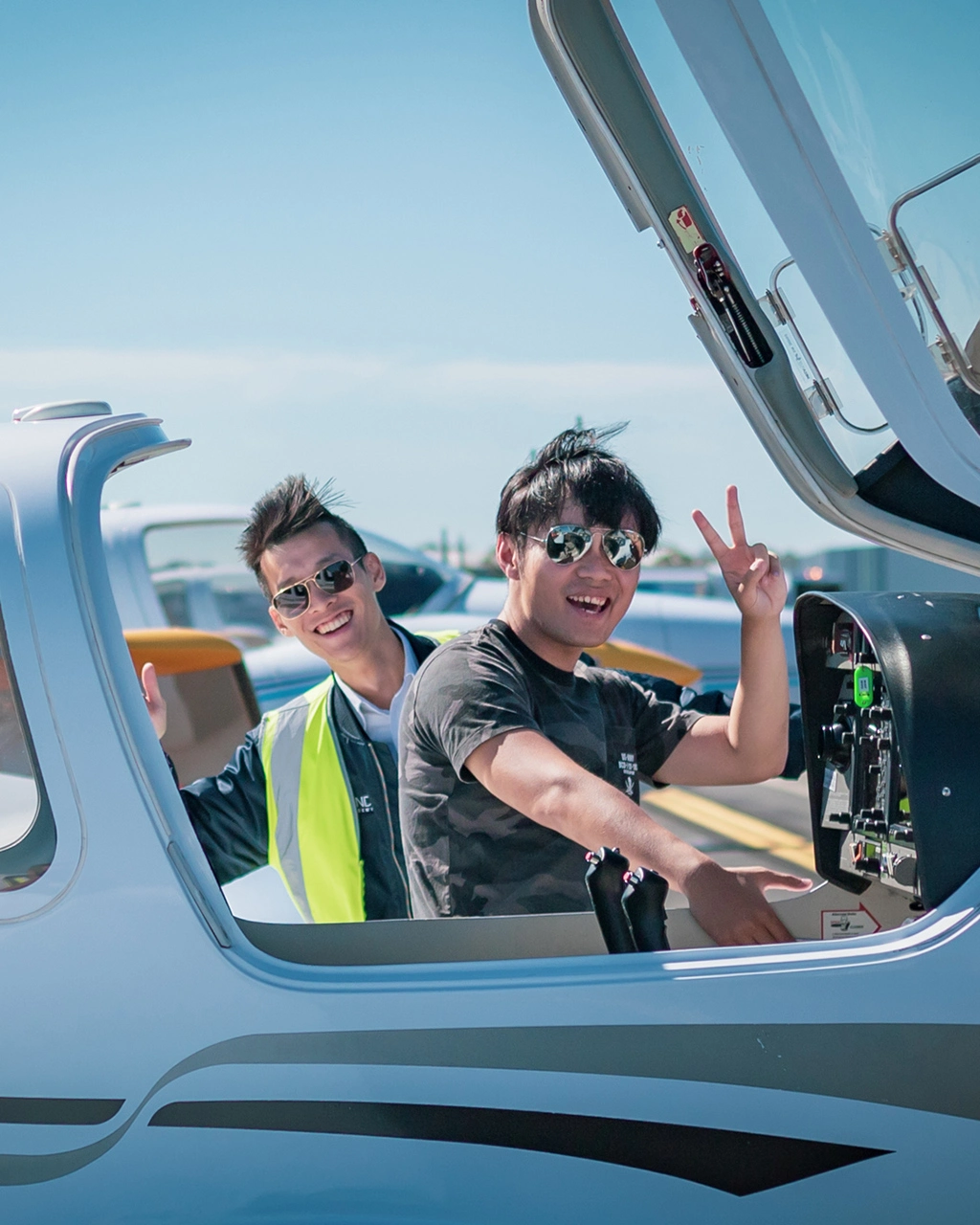 October 14, 2022
The Benefits of Online Flight Training Courses
Are you interested in undertaking a flight training course, but aren't sure you will be able to attend all of your classes in person? Luckily, Learn to Fly has many online training courses available. During the pandemic, students were unable to come to our training base to study or fly, but we didn't want them to lose their progress or fall behind. We also wanted to provide an opportunity for our overseas students to start or continue their aviation study.
So, we got to work on making the theory components for all of our pilot licence courses available online. We also added additional options like online virtual cockpit procedural trainers, along with a huge range of free flying lesson videos on our YouTube channel.
Online flight training allows students to study theory and concentrate on their studies without giving up their jobs or family responsibilities during courses. For overseas students, it offers a chance to study without needing to move to Australia until they are ready to fly. There are many other reasons why Learn to Fly champions online flight training. Have a read below to learn more!
The Benefits of Online Theory
Flexibility:
With online training, students can complete their studies at their own pace as there isn't a set schedule, this means there is no obligation to commit all their time to the course and they are fully free to continue work if they so desire. In-person classes are hosted on a schedule, which means that students generally need to arrange their life around the course, instead of the other way around.
We offer absolute flexibility, with online subscription to pre-recorded theory session videos that can be watched at any time. Alternatively, we also offer live online classes which can be attended from anywhere in the world – however they do still have a schedule.
Gentler on the Wallet:
For a variety of reasons, online aviation courses can be less expensive. For those in Australia, there are no travel costs getting to and from the flight school. Those overseas students benefit even more as they don't need to afford the costs associated with living in Australia while they complete the course.
Collaborative Work:
For those choosing the virtual classroom option, there is the opportunity to connect with people from all around the world. This gives students a chance to network with other passionate aviation students who bring their own perspectives and intelligence to the theory content. This can result in increased cultural awareness and an improvement in communication, which is of course a key skill for pilots.
No Travel Requirements:
As previously stated, those working overseas have no requirement to move to Australia during the theory portion of their studies, meaning they can get their education without the stress of living in a new country while doing so.
While the actual in-air flight training does need to take place on-site, it gives students some extra time to either save up or prepare for the travel to Australia.
What Online Flight Training Options Does Learn To Fly Offer?
Virtual Classroom:
Scheduled group classes presented using the Zoom Meeting online platform, with additional 1-on-1 online instructor theory hours included. The virtual classroom option also includes 12 months of access to online subscription.
Online Subscription:
All classes are available by secure student portal to watch at your own pace, with discounted instructor theory hours available for extended learning. Online subscription packages include 12 months of access to videos.
Online Cockpit Procedural Training:
Using some of the latest online training innovations, students can access a virtual cockpit that can recreate an in-person training environment. On the virtual platform, students can view a 360-degree version of a cockpit and complete procedural training in it at any time on a computer, smartphone or tablet. While the best learning will happen in an actual cockpit, Learn To Fly's online Cockpit Procedural Training offers accurate cockpit representation with popup detail videos that allow you to practice your procedural training completely online. Some of the procedures include pre-flight checks and normal, abnormal and emergency checklists. The virtual cockpit platform ensures that when it comes time to be in the actual environment, you are familiar with the surroundings and the procedures.
Free Flight Training Videos:
On Learn to Fly's Youtube channel we provide course outlines, pre-flight check instructional videos for our aircraft as well as free full RPL and PPL flying lesson videos presented by an experienced LTF Flight Instructor in both English and Chinese. This is an outstanding source of flight training information and is available online for free to be viewed at any time.
Social Media:
We are very active on social media and you can find us on Instagram, Facebook, TikTok and of course YouTube. Our social media channels feature a range of content that is both instructional and entertaining, and can also give you a bit of insight into what pilot life at Learn To Fly is all about.
So if you are interested in starting a career in aviation but aren't sure if you are ready to commit to attending classes in person, or perhaps you live outside of Australia and need some time to prepare, consider Learn to Fly's online flight training options. Book an online meeting to chat with one of our flight training specialists for more information.