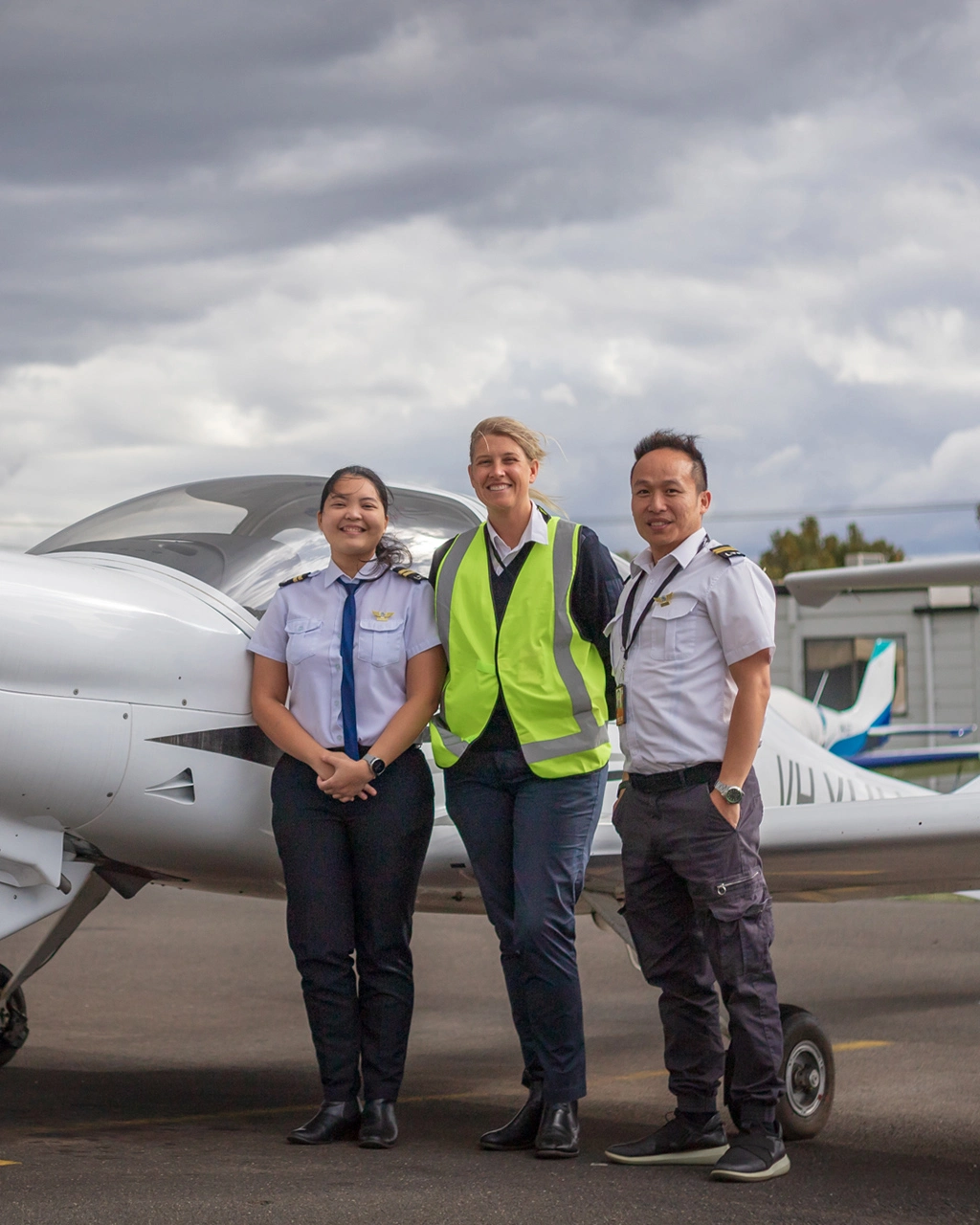 April 15, 2018
The Best Flight Instructors Make The Best Pilots
Flight instructors are the backbone of all successful pilots, whether that's for a career or just flying recreationally. One of the most important considerations you can make when choosing a flight school is finding the one with the best flight instructors.
Here at Learn to Fly, the best flight instructors are training some of the brightest future pilots in Melbourne. Students are assigned primary and secondary flight instructors. However, this can obviously be flexible based on student progress and training requirements. We have a wide range of flight instructors with diverse backgrounds and varied areas of expertise for this very reason.
The best flight instructors will always be the ones you're able to build a productive and trusting work relationship with. Regardless of how far into your aviation career you are, your instructor should always be someone you can rely on for guidance, assurance, advice and improvement.
Here are five great qualities all aviation students can expect from the right flight instructor:
They Have A Diverse Range Of Experience
Based on CASA guidelines, there are 3 levels of flight instructor for General Aviation. There are Grade 1 and Grade 2, and Grade 3 – with Grade 1 being the most senior. Beyond that, you have RA-Aus instructors and also instructors with specific capabilities such as IFR or multi-engine training.
Grade 1 instructors have extensive experience in not only flying, but also in instructing. To achieve that level of seniority, they have displayed their expertise in teaching both students and other instructors. Typically, your primary instructor at LTF will be a Grade 1 instructor.
It's important to find a flight school that has instructors of all levels, and with a wide range of additional capabilities. But beyond what's on paper as far as capabilities go, look for a diverse range of experiences. Our instructors come from multiple countries, and from different areas of aviation including airlines, charter and more.
Your Safety Is Their Priority
A large portion of flight training centres on emergency procedures. Stalls, wing drops, forced landings, engine failures, radio failures, and the list goes on! This is why our school standards require instructors to be not just be well-trained, but for safety to be their first priority.
A focus on safety is learned behaviour. A flight school with high safety standards passes this on to their instructors. The instructors then pass it on to you, the student. By treating EVERY safety detail as important – even the small things – bigger saefty issues become less likely.
The best instructors will respond immediately to any situation in which the risk outweighs the learning opportunity. This may mean that an instructor wants you to repeat something when you want to progress. That might be frustrating at the time, but it will make you a better pilot.
Beyond our instructors, our Chief Flying Instructor (CFI) and Safety Manager actively supervise all flight training operations and consistently check training records and documentation. This ensures compliance with Standard Operating Procedures (SOPs) and means students can always feel safe while flying!
They Bring Out The Best In You
What kind of learner are you?
Do you learn visually or kinesthetically?
Do you like to push yourself out of your comfort zone or take things step-by-step?
Are you goal orientated, or do you prefer to enjoy the ride?
You may not yet know the answers to these important questions. The best flight instructors will help you to learn these answers, and will be able to adjust their teaching style to bring out your best. Sometimes it becomes apparent that your primary or secondary instructors may not be best suited to your learning style. This is another reason why having a diverse range of instructors at a flying school is important.
Aside from the dos and don'ts of flying, an outstanding flight instructor will teach you the right attitude towards managing risks, valuing responsibilities and trusting in your abilities.
They Make You Confident
Confidence and self belief are huge factors when learning to fly. Not everybody is confident in their own abilities, or their own knowledge. It's a very different feeling being 3000ft up with an experienced instructor next to you, and being up there alone.
The best flight instructors will help you to trust yourself.
It's also important to ask as many questions as possible when learning to fly, and you should always be confident asking your instructor anything. Even the questions you may think are silly – because really, there are no silly questions.
The best flight instructors are excellent motivators who'll help you overcome any self-doubts and boost your confidence. Remember – they were a student once too.
They Inspire You
Your teachers are always a part of your story in life. Whatever knowledge your instructors instill will remain long after they leave your side in the cockpit. And it's this knowledge that you will often look to as your inspiration to fly.
Sometimes, learning can become a chore. You may be struggling to progress past a certain point. You may not find what you're learning at the moment as exciting as some other areas. Let's face it – some of that theory stuff can drag – especially when you just want to get airborne!
Whether you want to fly for fun or for a career, a great instructor will inspire your aviation journey. They'll make you remember what drew you to flying in the first place, and inspire you to fly further and higher.
Find your perfect flight instructor at Learn To Fly. Email [email protected] or visit https://drift.me/learntofly/meeting to book a meeting and school tour.