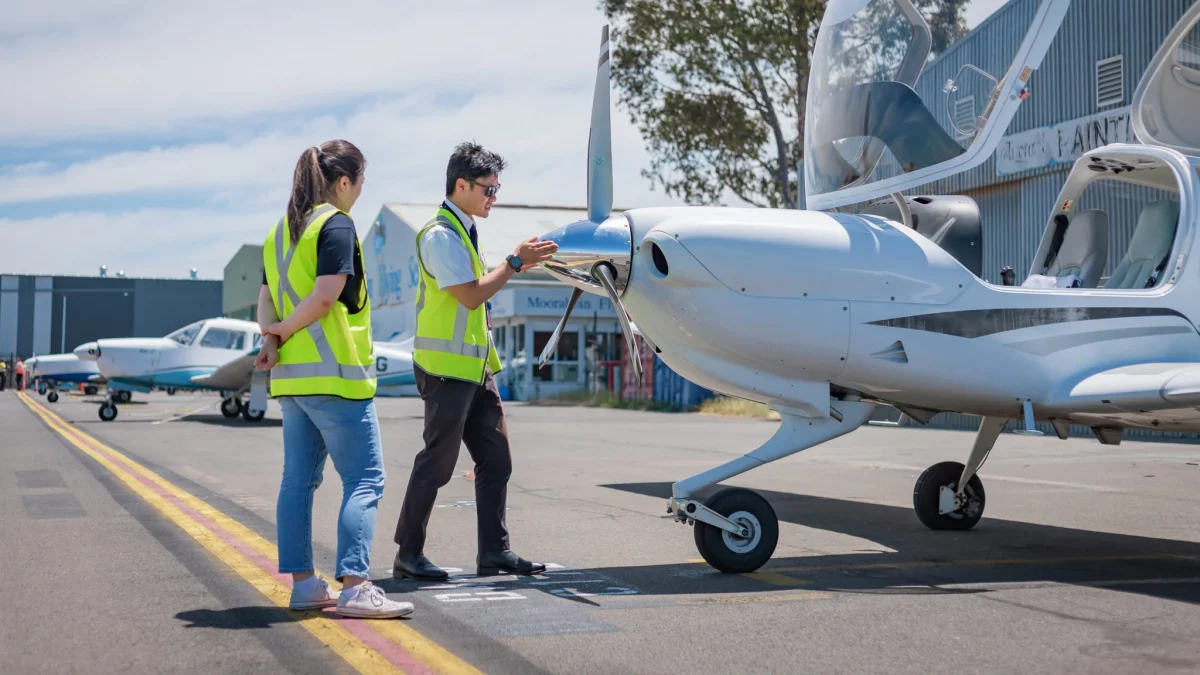 July 21, 2022
Learn To Fly: Flight Training Courses For Every Pilot
Here at Learn to Fly, we're passionate about helping all people achieve their aviation dreams. While some of our students are driven to pursue a professional full-time career as a pilot, others may have piloting a single solo flight as one of the top items on their bucket list. Whatever your aviation journey looks like, Learn to Fly is here to support you with our broad range of flight training courses.
Continue reading to learn a little more about the programs we offer, and questions you should ask yourself when deciding on which type of flight training in Australia is right for you.
Beginner Programs
Ready to kick start your aviation journey? How exciting! Learn to Fly offers a number of different flight training courses that are perfect for beginners.
Trial Introductory Flight
Sitting in the cockpit of a light plane is quite different to being a passenger back in economy. Whether you aspire to be behind the controls yourself one day or just want to experience what it feels like to sit alongside a qualified pilot, our Trial Introductory Flight is the perfect way to get started.
Learn to Fly Starter Set
The Learn to Fly Starter Set is perfect for those who want to get an idea of what it feels like to actually fly a plane before committing to a more comprehensive flight training program. With three package options available, all flying hours will be documented in your logbook and will count towards future flight training. Should you decide you want to continue on your aviation journey, you will have developed excellent basic skills and have already ticked off your first few flight hours!
Learn to Fly First Solo Flight Course
You'll never forget your first flight as pilot-in-command. Learn to Fly's team of experienced instructors will provide you with the skills and confidence you need to feel comfortable in control of the cockpit. We'll teach you the fundamental aviation skills that allow you to take off, climb, turn, fly straight and level, descend, and land. The goal is for you then to take to the skies solo and put what you have learnt into practice!
Pilot Licence Courses
In Australia, the aviation industry is governed by CASA, or the Civil Aviation Safety Authority. CASA offers a range of licences designed to suit the aviation needs of each and every type of pilot.
In line with this, Learn to Fly's range of pilot licence courses are comprehensive and will provide you with the skills, experience, and flight training hours you need to successfully obtain your desired licence.

Our Pilot Licence Programs include:
Recreational Pilot Certificate (RPC)
Recreational Pilot Licence (RPL)
Private Pilot Licence (PPL)
Commercial Pilot Licence (CPL)
Indian DGCA Syllabus Commercial Pilot Licence (CPL)
ICAO Pilot Licence Conversion
Ratings and Endorsements
Once you successfully obtain your desired pilot's licence, the journey isn't over. A range of ratings and endorsements are available to extend your skills. These enable you to fly different aircraft, partake in more types of flying activities, or fly in more weather and light conditions.
Learn to Fly's portfolio of Rating and Endorsement programs include:
Flight Instructor Rating (FIR)
Night Visual Flight Rules (NVFR) Rating
Private Instrument Flight Rating (PIFR)
Multi-Engine Class Rating
Multi-Engine Command Instrument Rating (MECIR)
Formation Flying Endorsement
Aerobatics and Spinning Endorsement
Tailwheel Undercarriage Endorsement (TWU)
Upright Prevention & Recovery Training (UPRT)
Instrument Proficiency Check (IPC) Refresher Course
Diploma of Aviation Courses and Bachelor of Aviation Pathway
If flying as a full-time professional career is your goal, there are many pathways available to get you there. In addition to pilot licence programs, Learn to Fly offers Diploma of Aviation flight training courses.
AVI50222 Diploma of Aviation (Commercial Pilot Licence — Aeroplane)
Aimed at students with little to no flight experience, our AVI50222 Diploma of Aviation (Commercial Pilot Licence — Aeroplane) course is a comprehensive training program. Students progress through CASA RPL, PPL and CPL syllabus. There is also additional learning on top of the CASA syllabus. This helps students to be better prepared to take on a professional role in the aviation industry following graduation.
AVI50519 Diploma of Aviation (Instrument Rating)
Learn to Fly's AVI50519 Diploma of Aviation (Instrument Rating) combines the Multi-Engine Class Rating and the Multi-Engine Command Instrument Rating (MECIR) syllabus. These are both critical qualifications. The training teaches you to fly an aircraft with more than one engine, and under Instrument Flight Rules. If becoming an airline pilot is your goal, this training is a necessity.
Bachelor of Aviation (Griffith University) Articulation Pathway
We are thrilled to offer an articulation program for students wanting to study Griffith University's renowned Bachelor of Aviation program. By completing both the AVI50222 and AVI50519 Diploma of Aviation courses, you will be eligible to apply for the Griffith University Bachelor of Aviation program with advanced standing (80 credit points).
This pathway offers the ability to complete 5 highly-regarded aviation qualifications in just 3 years. These are the Commercial Pilot Licence, Multi-Engine Command Instrument Rating, 2 x Diploma of Aviation, and Bachelor of Aviation.
Airline Interview Preparation
Much like any job application process, an airline interview can be a nerve-wracking experience. The secret to success for many applicants has been our airline interview preparation programs. These include the Future Cadet Pilot Program and Airline Interview Coaching Session.
Tailored to your needs, these courses provide crucial learning on how to best prepare for a successful interview and application process.
Theory Courses
Being a successful pilot requires a mix of practical skills and theoretical knowledge. But it's not always practical for pilots to study both together. Learn to Fly's range of standalone theory courses are offered in a range of delivery methods including in-person or online.
Our Theory Courses include:
Recreational Pilot Licence (RPL) Theory Course
Private Pilot Licence (PPL) Theory Course
Commercial Pilot Licence (CPL) Theory Course
Instrument Rating Examination (IREX) Theory Course
IPC Theory Revision Course
Principles & Methods of Instruction (PMI)
Human Factors Awareness Training Course
Pilot Fatigue Management Awareness Training
As one of the most comprehensive providers of flight training in Australia, Learn to Fly has courses to assist everyone from complete beginners to highly experienced pilots. We offer a well maintained and diverse fleet of aircraft, state-of-the-art facilities including full cockpit flight simulators, and Learn To Fly Melbourne experienced instructors. Contact one of our flight training specialists or book a meeting today to learn more about our programs, and to take the next step of your aviation journey.