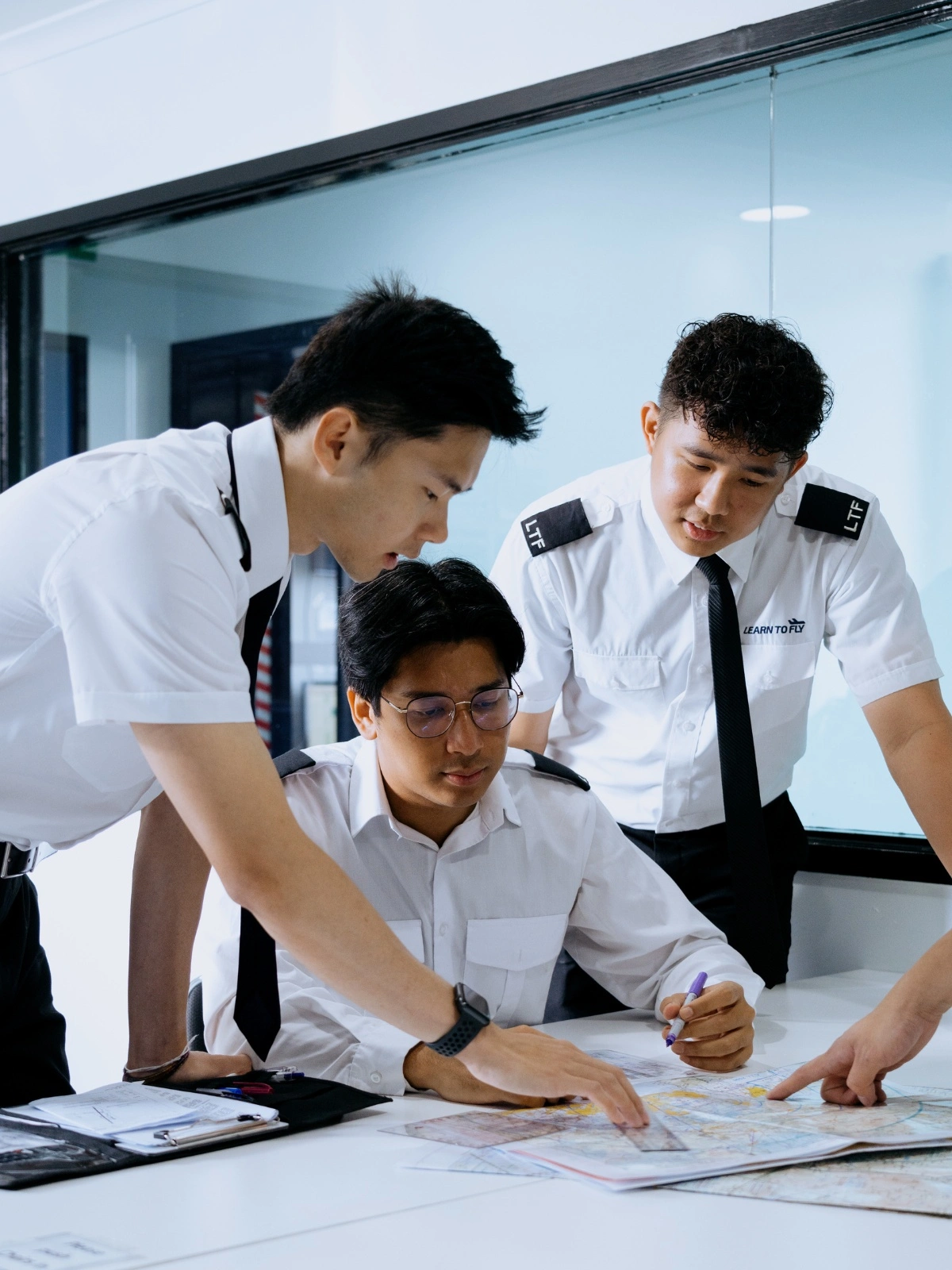 July 05, 2023
Group Exercises and Teamwork Assessments in Cadet Pilot Interviews
If you've made it to Cadet Pilot interviews, you've likely completed half the job. Well done. Now you'll find that most airline intakes and Cadet Pilot Programs include group exercises and teamwork assessments. The primary reason airlines include group exercises and teamwork assessments in cadet pilot interviews is to evaluate candidates' pilot skills. Here, we're going to talk you through what the group exercises might include, how they're used in assessments, and how you can perform well.
Why Do Cadet Pilot Interviews Include Group Exercises and Teamwork Assessments?
Airlines need to assess your pilot skills if they're going to recruit you. It's one thing for an airline to provide you with an individual question or task, and assess your solo performance. However, it's a whole other evaluation process to see how you can handle yourself in a group or teamwork environment. If you can think from the airline's perspective, they want to see your ability to communicate, as well as your self-knowledge and how you can operate within a team. After all, that is the exact environment in which you'll be placed – so they want to recruit the best candidates for the job.
As a commercial airline pilot, you're expected to be able to work in a team with defined roles but frequently-changing team members. Group exercises and teamwork assessments provide airlines with an environment to assess certain skills, traits and competencies.
What Are the Airline Pilot Group Exercises?
Most group exercises and teamwork assessments in Cadet Pilot interviews are based on the discussion of a topic, issue, or circumstance. You might be presented with a problem, situation, or topic and asked to discuss it as a group. That's the fundamental exercise to expect.
Does that sound simple? Yes, and no. If you're put with a group of 6 or 7 other applicants and work well together, that's great. But how do you handle an introvert who isn't really participating? How do you contribute if there is an assertive or controlling personality in the group?
Read on and we'll talk through how you can let your pilot skills shine.
How Do You Pass a Cadet Pilot Group Interview?
Cadet Pilot Interview is an assessment of a pilot's soft skills. Your problem-solving, leadership, prioritisation, delegation, communication, risk aversion, and so on. Passing the Cadet Pilot Group Interview is a matter of expressing these skills and attributes in a professional manner.
If you can memorise the skills you want to demonstrate and rehearse some ways you can do that, you'll be working on invaluable preparation for the day.
There are around 15 attributes that most airlines will be assessing in some shape or form. Here they are, in no particular order:
Situational Awareness
Team Work
Delegation
Leadership
Prioritisation
Planning
Reliability
Communication
Problem-Solving
Adverse to risk
Empathy
Motivated / Passionate
Customer Minded
Flexibility
Business Orientated

Keep in mind the interview isn't just about what you say. It includes how you say it, who you say it to, and also what you don't say. Your body language will play a large role in the assessment, as will your inclusivity and constructivism with the other candidates.
So that's how you pass the Cadet Pilot Group Interviews and Teamwork Assessments. But how do you actually perform better than the rest? Let's take a look.
How Do You Perform Well in a Cadet Pilot Group Interview?
All airlines have a framework of attributes, capabilities and qualities they seek. Many of them are on the above list, but each airline is different. These criteria are formed from what they believe makes the best airline pilots, so that's what they benchmark you against and look for. You won't know the specific criteria they are looking for, and each airline will have a slightly different approach. So how do you perform well in your cadet pilot group interviews? Let's take a look at some common requirements between the airlines to understand.
To perform well, you need practice. The best practice you can complete is after having completed a Future Cadet Pilot Program, so that you can be confident that you're spending your time practising the right skills appropriately.
As part of the program/course, you should be looking to establish a core set of criteria that you'd like to demonstrate and a strong method as to how you can demonstrate these skills. Keep in mind that you're going to need to know how to do this in a group format, so these are some of the skills that you will need to master:
Let others speak, but make sure you have your say.
Demonstrate how you've listened to the contributions of the others and used this to construct your own input.
Constructively provide alternative points of view or considerations without creating confrontation.
If a team member appears to be struggling to speak up or participate in the group exercise, provide them with a comfortable cue to contribute.
Learn how to help steer the group discussions to keep them progressing productively.
All of these are soft skills that separate a good commercial airline pilot from a great one. Among the short list of points above are those core skills we spoke about earlier – empathy, leadership, risk aversion, problem-solving, reliability, teamwork, and so on.
Now you're starting to understand how to excel in the Group Exercises and Teamwork Assessments for Cadet Pilot Interviews! That means you're ready to take the next step.
How Do I Prepare for Cadet Pilot Interviews, Including Group Exercises and Teamwork Assessments?
The best preparation for Cadet Pilot Interviews is to attend a Future Cadet Pilot Program. This is a course dedicated to preparing you for each Cadet Pilot process. Every element is covered in the course, including preparation for the cadet pilot interview process.
What Else Should I Know?
We've compiled a few useful posts that might help you out. Where ever you are on your aviation journey, the team at Learn To Fly Melbourne are here to help. We want you to pass your exams and have an excellent career, so please reach out if we can help support you through your course and studies!
Chat with one of our flight training specialists to get your pilot training off the ground. Email [email protected] or go to https://drift.me/learntofly/meeting to book a meeting and school tour.