Your first solo flight training experience is an incredibly exciting moment. It can also be quite nerve-wracking though. It's natural that you might feel a little anxious about what's about to happen. After all, you'll be the one in complete control of the cockpit. If anything unexpected happens, it will be your skills and cool, calm head that needs to find a solution.
However, most people find that once they're safely up in the air, that anxiety turns to complete exhilaration. You've been training for this moment for a while now. You know what you are doing, and you've finally achieved your dream of flying an aircraft solo!
Here at Learn to Fly, we've provided countless students with the skills and confidence they need to safely take to the skies in a solo capacity. In fact, we've built a whole course around it — our very popular Learn to Fly First Solo Flight Course. As part of your training, our experienced team will provide you with several strategies you can implement to make solo flight training as enjoyable as possible. Here are some of the top tips:
Be patient
Depending on your age, skills, background, and experience, getting to the point where you feel comfortable undertaking solo flight training may take some time. This is completely understandable; remember how strange it felt getting behind the wheel of a car for the first time without an instructor? And your feet were firmly planted on the ground!
Be patient with yourself and your instructor when preparing for your first solo flight. Flying is a difficult skill. It requires physical finesse and a certain level of theoretical knowledge. Building this skillset takes time. With patience though, along with passion, dedication, and support from the right flying school, you've got the best chance of getting there.
Ask questions
Learn to Fly's First Solo Flight Course is specifically designed to develop your skills to the point where your instructor feels comfortable letting you take to the skies on your own. It involves 15 flight training hours, and these will be flown with an instructor by your side until you are ready.
You should aim to ask as many questions as possible about the plane you're in, the role and responsibilities of a pilot, and how to handle unexpected, emergency situations. There is no such thing as a silly question. In fact, you'll be left feeling pretty silly if you don't ask something and are later left still wondering when you're in control of the aircraft.
Learn to Fly's team of experienced and dedicated instructors are as passionate about teaching as they are about flying. They'll be more than happy to answer any and all of your questions, so ask away!
Don't rush
Mistakes are usually made because we don't give ourselves enough time to fully think through a situation. This is true in all contexts but is particularly important regarding solo flight training.
Your flight instructor will only okay you to fly solo if they truly believe you are ready. Once you've got that tick of approval, you can be confident that your skills and knowledge are up to the task of being in command of the cockpit.
The trick is to not let nerves get the better of you. Your instructor has confidence in you, so you should have confidence in yourself. Don't allow anxiety to dictate how quickly you move through your pre-flight checklist. And don't let nerves tell you that you're going to have difficulty making the landing. Trust in your training and knowledge, and everything will go smoothly.
If you find yourself rushing, take a moment to look out the window, enjoy the view, and acknowledge that you're a solo pilot. Not many people can say they've had that experience!
Enjoy yourself!
Finally, remember to enjoy yourself. You've put in a lot of time, effort, and study to get to this point. Maybe this is the fulfilment of a lifelong dream. Or perhaps it's only the first step in going on to obtain your Recreational Pilot Licence, Private Pilot Licence, or Commercial Pilot Licence. Maybe one day you'll be piloting a jet airliner, and you will look back and remember that very first time you took to the skies on your own!
Here at Learn to Fly, we are passionate about helping our students fulfil their dreams. We know that flying can be both exciting and overwhelming, which is why we recommend our First Solo Flight Course for those looking to commence solo flight training. The course is designed to provide you with all the practical and theoretical skills required to safely take-off, handle the aircraft in the air, and then safely touch down again. Our students come from a wide variety of backgrounds and are equally as passionate as you about achieving their aviation goals.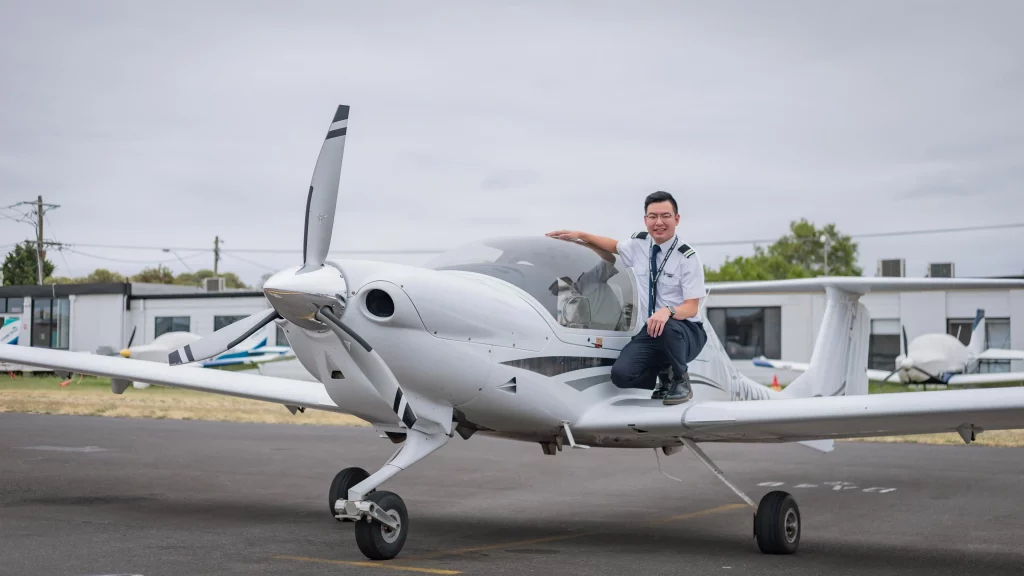 Contact our friendly team today to find out more about our course options and programs.