Learn To Fly is proud to announce a new articulation pathway with Griffith University for students wanting to complete a Bachelor of Aviation program.
Australia's Most Recognised Aviation Program
Griffith University is one of Australia's most prestigious universities and offers Australia's largest and most recognised aviation teaching program. For over 25 years, Griffith has worked closely with aviation industry experts to develop programs that meet the demanding requirements of current and future pilots. They are known worldwide for providing exceptionally well trained and high-quality commercial pilot graduates.
With strong industry ties as well as a large presence in aviation research, the Griffith University Bachelor of Aviation program is the perfect stepping-stone to your career as a pilot.
About the Bachelor of Aviation Course
A Bachelor of Aviation qualification is the perfect preparation for becoming a professional pilot. Your comprehensive training includes theory in a range of subjects as well as simulation training.
Choosing this pathway for your aviation training can mean that you are able to be ready to start working professionally in a wider range of aviation jobs sooner.
The Ideal Pathway to Becoming a Professional Pilot
Completing the AVI50219 Diploma of Aviation (Commercial Pilot Licence – Aeroplane) and AVI50519 Diploma of Aviation (Instrument Rating – Aeroplane) courses with Learn To Fly Melbourne allows you to apply for the Griffith University Bachelor of Aviation program via Advanced Standing (with 80 credit points). The diploma courses can be completed in 18 months at Learn To Fly's Melbourne training base at Moorabbin Airport.
Griffith's Bachelor of Aviation program requires a total of 240 credit points for completion. This takes most full-time articulation students another 18 months to complete, based on 15-20 hours per week of scheduled classes. What this means is that you could potentially complete 3 highly regarded aviation qualifications (Commercial Pilot Licence, Multi-Engine Command Instrument Rating and Bachelor of Aviation) within just 3 years.
When you graduate from this training pathway you will be ready to start your career as a pilot. In addition, these 3 qualifications could mean that there are many more job opportunities available to you.
Extend Your Career Advantage Even Further With Learn To Fly
To be able to participate in formation flying, you'll need a Formation Flying Endorsement. The
Learn To Fly offers a wide range of additional flying courses. You can complete these courses concurrently whilst studying for either the Diploma courses or the Bachelor of Aviation program. These courses can improve your standing as an applicant to potential employers even further. They will also give you the training to be able to consider a wider range of commercial pilot roles post-graduation.
It's no secret that aviation employers industry-wide hold applicants with a Flight Instructor Rating (FIR) in high regard. Our Flight Instructor Rating (FIR) course is seen as one of the most comprehensive flight instructor courses in Melbourne.
If you are considering a career as an airline pilot, then you should definitely consider our Airline Interview Preparation courses. Facilitated by international Airline Check and Training Captain and aviation career specialist Darren McPherson from ACS Aviation Consulting Services, these courses have helped nearly 200 pilots to achieve success in their applications to a range of renowned airlines around the world.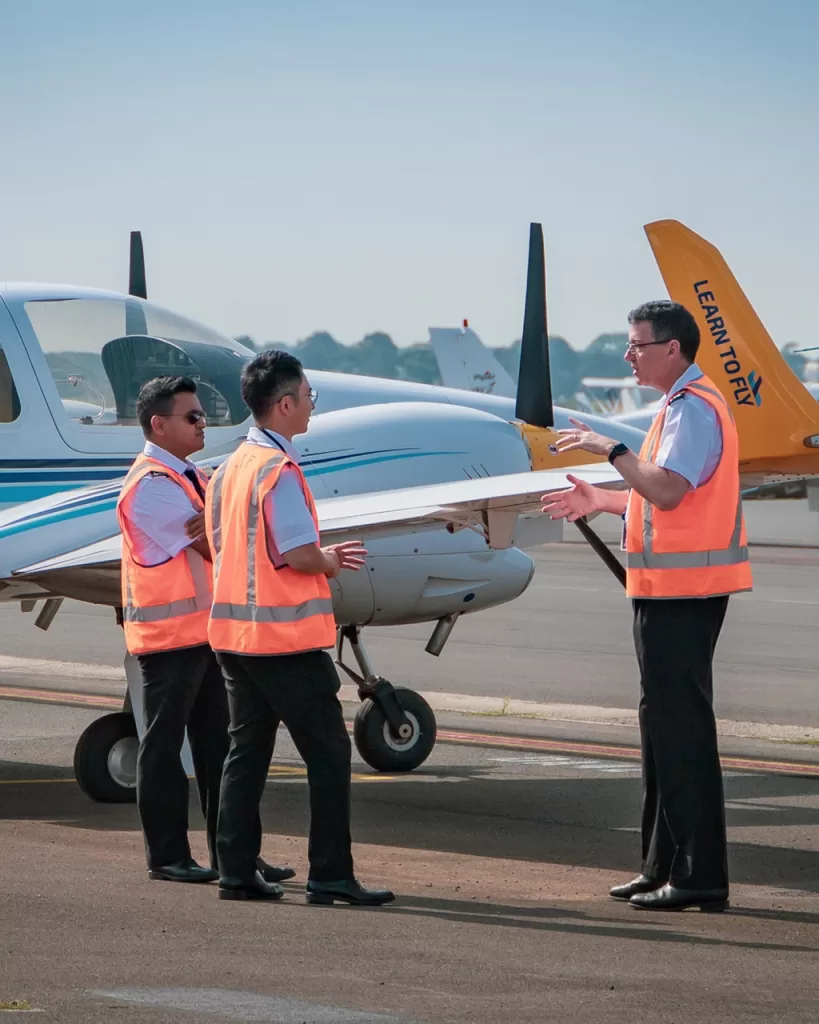 To register your interest in the Bachelor of Aviation articulation pathway, email [email protected] or visit https://drift.me/learntofly/meeting to book a meeting and school tour.